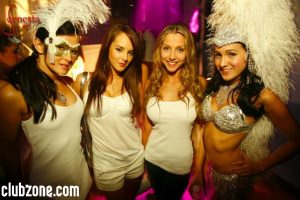 As a way to thank its hard working brand ambassadors, field marketing managers, corporate team members, and agency representatives, alcohol distributor Bacardi hosted a holiday party at Central Park's Trump Wollman Skating Rink.  Around 1,800 guests showed up to the extravagant event which included activities and entertainment, branded photo booth, Bacardi girls dressed in Santa suits, dancing stiltwalkers, and a chance to get your picture taken with Santa and his elves.  As an added bonus, Bacardi also handed out free drink shakers and had a professional engraver on site to etch personal messages into the gift.
According to Bacardi USA's field marketing manager, Christine Squillante, the company really wanted to raise the bar when it came to this year's holiday party.  Bacardi has thrown holiday parties in years past, but nothing of this magnitude.  The alcohol distributor really wanted a way to thank their bartenders, general managers, owners of accounts, and retail stores that they work with on a day to day basis.   With the business and work from these individuals, Bacardi would not be the recognizable brand that they are today.
It is no secret that planning an event of this size is a tough job.  With so many caterers, entertainers, workers to hire for the event, Bacardi's in-house field marketing team did a great job getting everything in place for a wonderful event.  One of the highlights of the night for many party goers was being able to put on a pair of skates and take advantage of the ice rink in Central Park.  Having this activity as the main focal point of the evening made it even easier for the event planners to get the rest of the party in order.