Last week, we had the pleasure of chatting with Erin Grace, the founder and CEO of Erin Grace Events. Based in Southern California and in San Antonio, Texas, Erin Grace Events is a boutique wedding & event planning company that plans 10-15 weddings/events per year.
Known for specializing in event design, Erin Grace has been in the event planning industry for over 10 years. She received her degree in Event Planning & Management from Cal State Long Beach, and has since gone on to work with some of Southern California's top vendors, as well as be featured on The Knot and the wedding channel.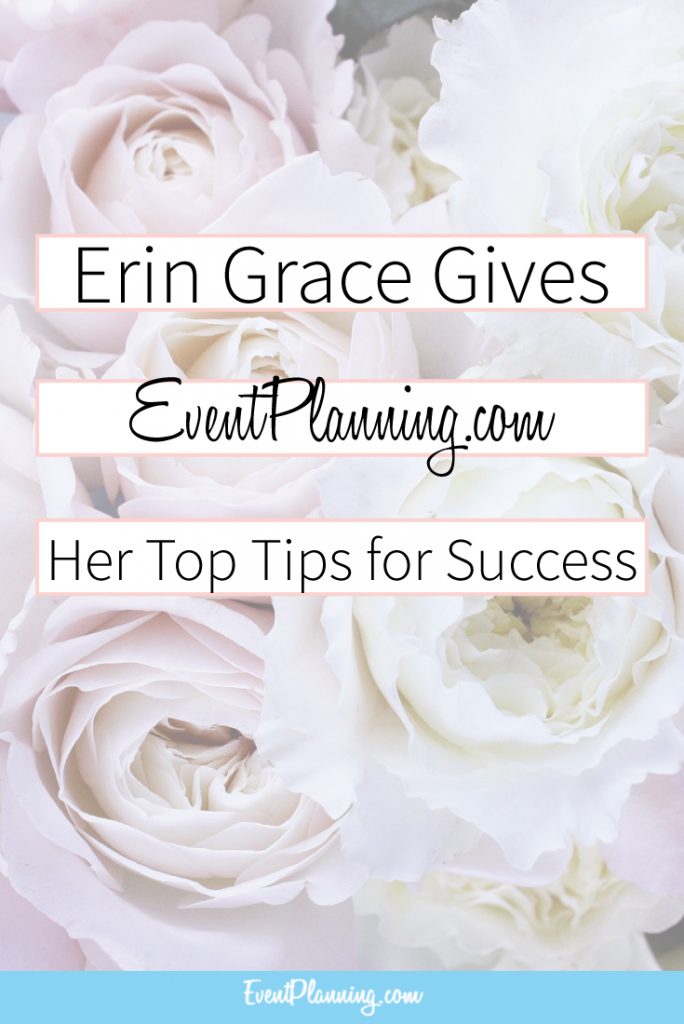 I chatted with Erin on her education, her advice for event planners, and how she is able to run a business from two different locations:
1.) How did you first get involved in the event planning industry?
I've always loved entertaining and hosting events for the holidays; Halloween and Christmas being my favorite! This was my inspiration for becoming an event planner.
2.) I noticed that you received your degree in Event Planning & Management from Cal State Long Beach. Would you care to comment on that experience, as well as what sort of education you would recommend to event planners?
It was a great experience; very eye opening. However experience is the best education in my opinion. I learned so much while working hands on. I would recommend an internship if possible.
3.) What is one of the most interesting events that you have planned?
There have been so many great events that I can't just pick one. I wish I could.
4.) In addition to creativity, people and organizational skills, what other skills do you feel every event planner should have?
I think every planner should take a psychology class. It takes a certain planner to be able to work with many individuals and keep them each happy. This is certainly a task I learned while working in event planning prior to becoming a small business owner.
5.) Your business is based out of two different locations: Southern California and San Antonio, TX. How do you work with the logistics of running a business in two different states?
Thank you for asking this question! I get it a lot. Well, I have a few event managers in San Antonio who do most of the marketing and meeting with clients; once an event is booked I come in and work with the client on design, planning and so on. As for California, I live here so it is much easier. But I love having clients in both locations.
6.) How do you decide who the best vendors are? And how do you develop such strong relationships with them?
This is easy; I build strong relationships with those that enable me to be the very best at my job. Once this is accomplished, it makes it very difficult for something to go wrong at any event. Also, as the Event Planners Association's Southern California Chapter President I've had the wonderful opportunity to network with many great vendors who I've managed to build relationships with. I would suggest for anyone entering the events industry to network, it is the one thing that can make or break your business.
7.) I noticed that you offer two internships per year to up-and-coming event planners. Can you tell us a little bit more about this program, and what you look for in potential interns?
Yes, I love having interns. They are great in that I always find enthusiastic young planners looking to show their stuff! As for my approach, it is hands on in that I allow them to shadow me at site visits, meetings with clients and of course the events themselves in order to challenge them to think of the things I think of prior to any event. It's working out great as I've just brought on our most recent planner part time.
8.) In addition to volunteering and networking, what other advice would you give to someone wishing to start their own event planning business?
I would recommend they intern someplace. There is so much to be done aside from just networking. In today's market you have to try to catch the attention of your prospective client by email, phone or social media and being fluent in each of these formats is a must!
9.) Are there any current or upcoming trends you have noticed in the event planning industry? Particularly in the wedding industry?
Yes, there are a few; candy/dessert stations, lounge furniture at receptions and my newest favorite is serving hearty h'ourderves  instead of the traditional plated dinner. Couples who want a fun comfortable atmosphere have started to ask me for this and the guests absolutely love it! This allows couples to serve great comfort foods that everyone loves.
Thank you so much for taking the time to do the interview with us Erin! It was very informative.
You can read more from Erin Grace on her blog.

-Written by Sarah Osman. You can read more from Sarah on Twitter.