Updated: December 2016
You've sent out your holiday cards, you've put up your decorations, the snow is falling… it's nearly time for a new year! This year, instead of hitting the town for a major New Year's celebration, why not have a spectacular bash right in your own home? Planning a New Year's Eve party at your own house can be one of the most difficult events to plan, but never fear: I've provided you with some fool-proof tips to help you ring in 2013:
1.) Get a Headcount: It's always helpful to know exactly how many people are planning to come to your house. You want to be sure that you have plenty of food and drinks for everyone (and party favors if you are planning to include those too!), so be sure to make sure you get a rough headcount at least a few days before New Year's Eve. Evite could be a great tool to allow guests to RSVP.
2.) Eat, drink, and be merry: Make sure that there is plenty of food and drinks for your guests. I know that this one may sound a little silly, but you would be surprised at how many people end up running out of food and drinks! I recommend having a diverse snack table filled with plenty of healthy snacks, such as almonds, carrots, tortilla chips, and a light sampling of fruit. However, it is perfectly alright to include at least one or two delectable treats. A chocolate fondue fountain is a great way for your guests to share dessert, and so are chocolate covered strawberries. In terms of drinks, champagne is of course necessary, but I would also recommend having a wide selection of beers and wine (red and white) for your guests to drink. Do keep in mind that some of your guests may not wish to drink, so be sure to have non-alcoholic beverages as well. Tea, coffee, and fruit juices are often ideal. Twelve, which is a mixture of fruit and herbal tea, is an ideal alternative to champagne.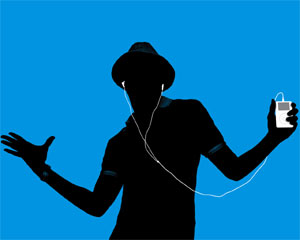 3.) Have a set music list: It is much easier to have a play list on your iPod that you can just hit "play" on rather than trying to play DJ all night. Of course, one must include "Auld Lang Syne," and there are dozens of beautiful covers of the classic to pick from. I also recommend including a few fun upbeat dance songs, such as "Shake, Rattle and Roll," by Bill Haley, "1999" by Prince, and perhaps even a few from the modern day Princess of pop, Rhianna. It's always fun to have a mixed play list, so be sure to include a few songs from the greats such as Frank Sinatra, Elvis Presley, and Ray Charles. I also recommend throwing in a couple of classic rock songs such as "Start Me Up," by The Rolling Stones, "Rock and Roll all Nite," by Kiss, and "Pinball Wizard" by The Who. Your guests will be sure to recognize these songs, and they are not only great conversation starters, but a great way to get everyone out on the dance floor!
4.) Pick a Theme: Picking a theme for your New Year's Eve party will really help bring the entire event together. A theme will help you know what sort of food to buy, what sort of music to pick, and even what sort of decorations to buy. Of course, you will still want to get a headcount, and provide food and music, but having a theme will simply help with the overall mood of your party. There are dozens of themes you can pick from for your party, but a few of the more classic ones I have seen include: the black and white gala, in which all of the décor is in black and white and all of your guests must wear black and white, the Hollywood party, in which your house is decked out like the front of the Kodak theatre (be sure to include a red carpet and walk of fame stars!) and the winter wonderland, in which your house will look like a dazzling winter night (be sure to cover everything in white, and I recommend playing soft classical music to help set the theme for this one).
5.) Be sure to decorate: It has been rumored that if you clean your house before the New Year, this will bring you good tidings. Either way, you do want to make sure that your house is festive for the party. If you are having a themed party, then be sure to match the decorations to the theme, but if you are not, then try to include some simple decorations that are fun yet easy to clean up. Believe it or not, people really do enjoy noisemakers, hats, and tiaras, so be sure to have a few of those around for your guests to play with. I also recommend swapping out your regular light bulbs with pink light bulbs to create a softer effect in your home, and lighting candles for an extra bit of romance (or you can use flameless LED candles to avoid any accidents in your home).
6.) Start a new tradition: All over the world, people welcome the new year in different ways. To add a little bit of a cultural flair to your party, why not incorporate one or two traditions from a different country into your party? For instance, in Portugal, people pick and eat twelve grapes as the clock strikes twelve on New Year's, to ensure twelve happy months, and in Germany, people drop  molten lead into cold water to tell the future from the shape it makes. There are dozens of different traditions you can pick from to incorporate into your New Year's party.
7.) The most important part…HAVE FUN! We often put so much stress on ourselves to have the perfect New Year's Eve party, kiss, toast, etc… that we forget to just have fun! Enjoy ringing in 2013 with your loved ones. Remember to keep it simple, classic and most importantly, relaxed. I wish you a happy and prosperous new year!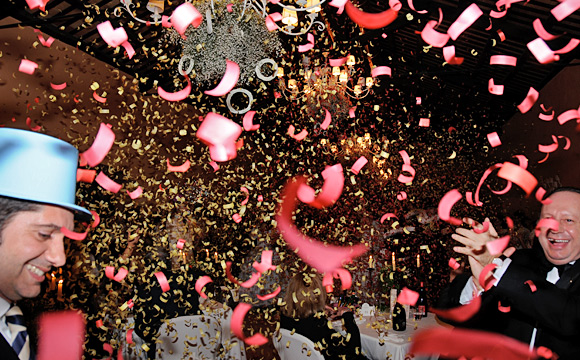 -Written by Sarah Osman. You can read more from Sarah on Twitter.
For inquiries, please contact us at editorial at eventplanning.com.